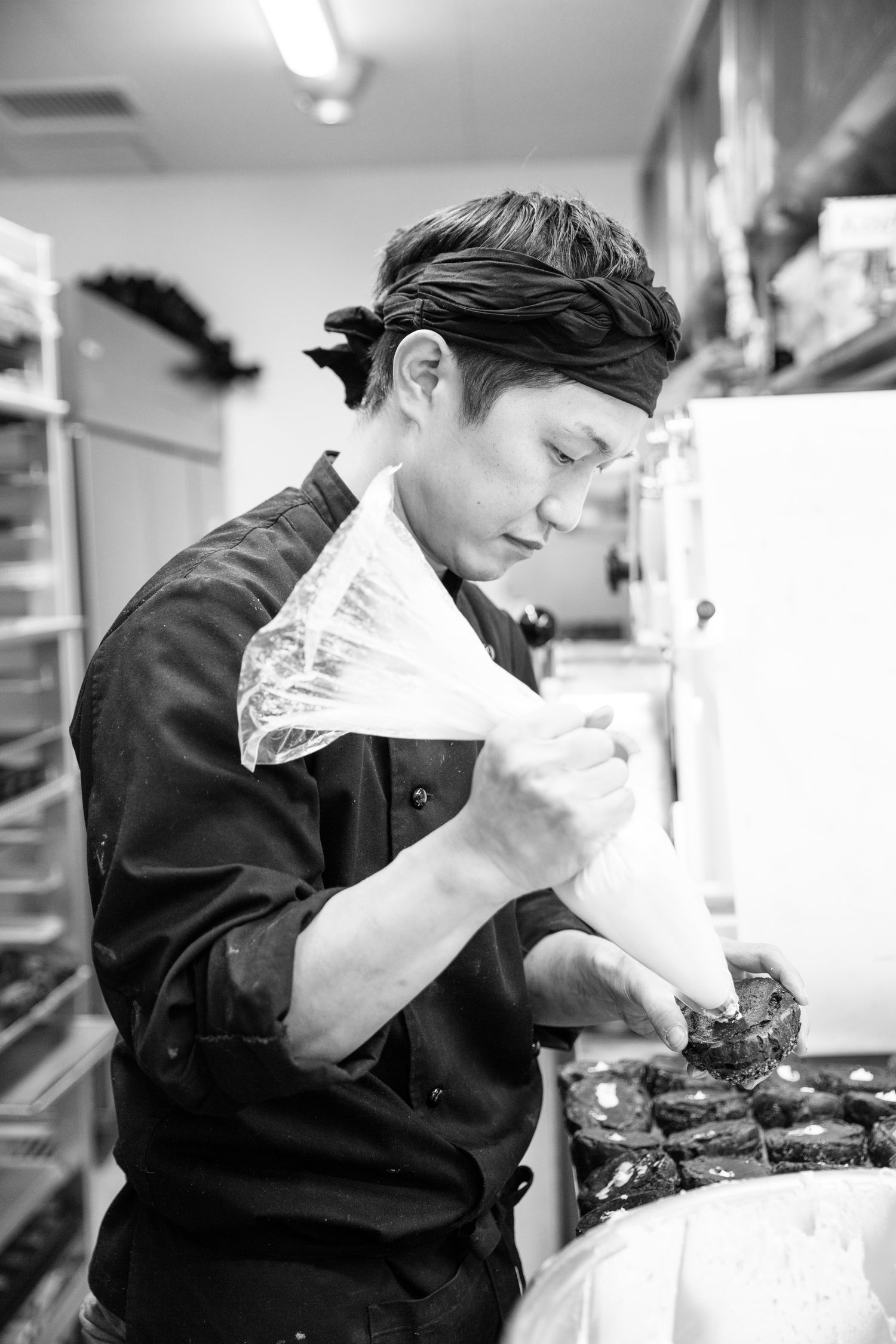 "Black recipe" that can only be tasted here
Our sweets use "black cocoa", which has been processed to make the color stand out more when making cocoa from cocoa beans, as the main ingredient.

This cocoa is a material that I was fascinated by and started researching in the research and development department of a confectionery material company that I had never met in my patisserie training era for more than 10 years and worked before the establishment. .. As a result, "My Black Recipe" was evaluated by confectionery makers nationwide and became a commercial dessert and was commercialized.

By combining the know-how of researching the blackest cocoa in the world and the technology cultivated as a pastry chef, we propose sweets that can only be tasted at Patisserie Chronoir.
自身の強みを活かした『黒いお菓子』というコンセプト
パティスリー クロノアールのコンセプトである"黒いお菓子"に出会ったのは、研究開発部門で働き始めてすぐの頃でした。コンビニで黒いお菓子が流行していた時期でもあって、黒色のお菓子をつくれる「ブラックココア」にのめり込みました。
その後、全国の大手製菓メーカー各社へ商品の企画提案などを行う中で、私の考えた黒いお菓子のレシピは科学的な知見とパティシエの技術が重なった希少な商品ではないかと思うようになりました。
 お菓子を黒く染めること自体が楽しくて好きでしたし、何より黒い商品だけを並べる店なら、他のパティスリーとも競合せずに共存できると思いました。
そこでこの特異な技術を活かし、美味しくて黒いお菓子の店の出店を決意したのです。
届けたい相手がいるから新小岩で開業
高校1年生の夏休みからパティスリーでアルバイトを始め、卒業後はすぐに就職することにしました。
その後フランスにも2年ほど渡り、国内外で20年以上お菓子づくりを学びました。
修行し始めた当初からいずれは独立して自分の店を持ちたいと考えていた中で、出店する場所を決めたのはフランスにいた頃でした。
 決め手は「つくったお菓子を誰に届けたいのか」でした。
海外での生活も肌に合っていたので、フランスでも出店を考えたりもしましたが、届けたい人は自身の親、修行を始めた頃に支えてくれた同級生やその家族だと店を開く場所は、自分のお菓子づくりを応援してきてくれた人がいる"地元"にしようと決めました。
The origin of black sweets
Explains typical items that are the raw materials for "black sweets" that Chronoir continues to pursue.
Black cocoa

Black cocoa

Among the cocoa, black cocoa is a powder that is more specialized in color tone. Alkaline cocoa with a pH of 8.3 or higher is very suspendable and has a texture that does not feel particles. The taste is a spice type that feels sour and salty.
おすすめ情報を発信

クロノアールのLINE公式アカウントに登録しませんか。新商品やイベント情報など、リアルタイムで配信させていただきます。よろしくお願いいたします。